A Guide for Physiotherapists Applying for a UK work visa
The Surrey Physio Group is a recognised and approved Sponsor providing Tier II work visa's (Health and Care Worker visa). We provide services to the NHS, and so physiotherapists can apply for the Health and Care Worker visa through the skilled work visa route, which brings additional advantages to the applicant. We support overseas applications and support physios who want to fill out their visa application.
For physio's looking to join our team, fill in this form: https://docs.google.com/forms/d/1vooN9Jffg1cS344k56gcPbDWfHbtwBvn3BV22_oyRgc
Before you apply for a Health and Care Worker visa as a physiotherapist you must:
For information on how to apply for the HCPC Physiotherapy registration, go to this page: https://www.surreyphysio.co.uk/hcpc-registration-guide-for-physios
Salary Requirement
Knowledge of English:
Application fee and money required for support:
List of documents Required
Certificate of sponsorship including reference number, job title, annual salary, occupation code, name of employer and their sponsor licence number.
Surrey Physio provide you with the certificate of sponsorship.
Surrey Physio are an A-rated company and A-rated companies are prioritised, and the process is quicker and easier.
Proof of English.
A valid passport or document that shows your identity and nationality.
Evidence of personal savings.
Proof of your relationship with your partner or children.
Tuberculosis test results if you're from a listed country https://www.gov.uk/tb-test-visa/countries-where-you-need-a-tb-test-to-enter-the-uk
a criminal record certificate https://www.gov.uk/government/publications/criminal-records-checks-for-overseas-applicants
Tuberculosis Test:
You need to get your tuberculosis test completed prior to applying for the visa.
The tuberculosis test can take time to book, so book this as soon as you can.
Depending on your country, it may cost around £200-300 to get this test booked.
You will have an X-ray done, and then you are issued with a certificate.
Criminal Record Certificate / Police Clearance:
Physiotherapists from other countries who have joined Surrey Physio have found delays in getting their Criminal record certificate sent to them. So apply ASAP for this.
For example, in South Africa, it can take several months to get this certificate.
If there are fast-track options always take the fast-track approach.
Certificate of Sponsorship (CoS)
You will need a certificate of sponsorship. However, first you must have your IELTS, TB and Police Clearance.
Once you have this, go to this page www.surreyphysio.co.uk/cos-form and send us the information so we can apply for your CoS. Once we have received your CoS we will then send you the CoS certificate so you can apply for the UK visa.
Apply for a Health and Care Worker visa
How long does it take to get a decision
General Guidelines
Good news, the Immigration Health Surcharge is exempt for the principal applicant and their dependent family because this is a health and care visa. This will save you a lot of money.
You should not tick the Health and Care Visa box if your employer has not confirmed on the Certificate of Sponsorship that you are eligible. Your sponsor must be a provider to the National Health Service (NHS).
You'll get an email or a letter containing the decision on your application.
You will need to provide certified translation if your documents are not in English or Welsh https://www.gov.uk/certifying-a-document
Your partner or children will need to apply separately.
Provide as much relevant information and documents as possible to support your visa application for example (salary slips, employment history, experience certificate, contract letter etc).
Make sure that you apply for all your family at the first opportunity because the certificate of sponsorship is a very strong document. So applying together is advised.
Common Information required for filling in a visa application
Email address, Date you plan to arrive in the UK, Are you now or have you ever been known by another name, Date of birth, correspondence address / address history / detail of your living situation/contact number/ Passport details / Spouse / partner details/ Parent details/ Employment/ Accommodation details in UK/ Travel history (UK)/ Travel history (other)/ Other history(Involvement in war, crimes etc.)/ Extra information (to clarify any of your query) / Sponsor & Job detail/ English language/ passport/ Criminal record certificate/ Maintenance/ Parental responsibility, school, Letter of consent from your parents or legal guardians (child) /Consent/ Declaration.
Screen Shots to help you fill in your application: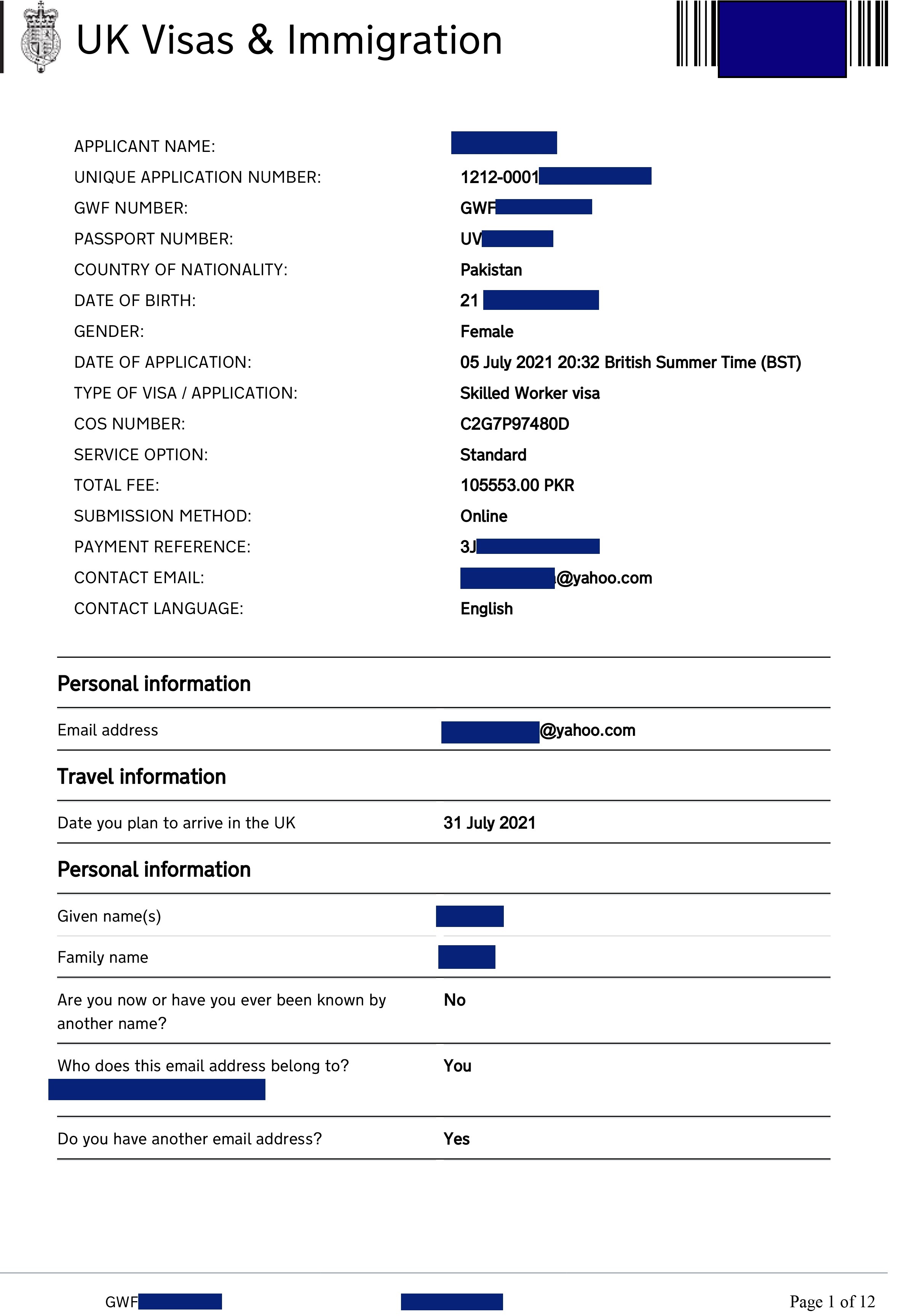 --> -->
Note: This is a general guideline document for international visa applicants and Surrey Physio Group cannot be responsible for your application. You must follow GOV.UK website for any up to date information.